Click on the headings of each house for a complete view of pictures and description.
What happens when the top builder in the Palisades finally takes the time to build his own family home? The results will amaze and delight you. This unbelievable 12,000 square foot mansion is not only beautifully finished and decorated, it is full of surprises.
Just steps beyond the calming stone fountain you will find the entrance to this Spanish style abode. From the custom iron door and chandelier fabricated by a local iron artist to the groin vaulted ceilings, it is immediately apparent that attention was paid to every detail.
Standing in the entrance you can glimpse the first of 6 fireplaces as well as a piano and bench used by Elton John in concert. The kitchen features double marble islands, a separate chef's kitchen with barrel tiled ceiling used for the owner's large parties, and a view of the gorgeous pool cabana with classic Martinique wallpaper.
The outdoor portico is surrounded by a ecologically designed landscape and topped with a beautiful wisteria vine trellis.
Each of the 6 bedrooms has a different custom ceiling and each of the 10 bathrooms has a combination of show stopping marble, Waterworks faucets, gorgeous bathtubs and custom features. The master suite is indeed masterful in its use of neutral tones, natural light, and fine furnishings. The lower level has a dance studio with professional flooring and sound system, a home theater built for cinema aficionados, a wine cellar, a luxury hotel worthy spa, and the piece-de-resistance, a car showroom that must be seen to be believed.
Imagine everything wonderful about the South Carolina coast blended together with all that we love about our local beaches and you have a pretty good idea of what it feels like to visit Sandy Landings.
A well-respected local interior designer took the lead on finishing and furnishing this newly constructed Cape Cod style home. As all wonderful design does, this home mixes the old with the new, the farm with the beach, unique finds with family treasures, and the needs of adults with those of the kids they love.
This casual home welcomes you with a soft palate and a view of the beautiful back yard, outdoor fireplace, and pool. The warm and inviting kitchen makes equal space for both a semi-professional cook and the prolific outpouring of colorful art from the children.
Soapstone counters, apron sink and traditional faucets harken back this couple's former life in the South. Two dishwashers, collector's wine fridge, multiple microwaves and warming drawer make it easy to for the owners to host their famous casual get-togethers.
The professional sound system with over a 10,000-song play list brings this 6400 square foot house to life. The master suite with attached office is a serene oasis. The girl's rooms have a Jack-n-Jill loft and inspiration in equal parts from both Taylor Swift and soccer.
The playroom features grandmother's childhood dollhouse from London. Heading downstairs past the beach themed powder room, you will find the true life of the house, the lower level play space with bar, theater, gym, guest room, stage, wine cellar, and foosball table.
A home is truly the reflection of its owner – and in this case it is also a reflection of their love, their friends, and their creative team. Thanks to thoughtfully designed architecture, this newly constructed 6000 square foot home has a warm, comfortable and chic feeling that belies the challenge presented by this unusually pie-shaped corner lot. The award-winning interior designer helped them blend together their mementos and collections in a way that feels both lived-in yet sophisticated. Every room in the house was curated and custom designed so that the aesthetic is smooth and consistent.
The see-through fireplace with sculptural andirons, designer sofas, and view of the gorgeous xeriscape yard provide a stunning backdrop to the owner's contemporary art collection. For those who love the interplay of neutral colors and textures, the kitchen, living room and dining room provide a lesson in the ways paint, lighting, furniture, and architecture can work together to bring out the best features of each.
The powder room has metallic wallpaper, a silver leaf finished vanity and luxurious fixtures fit for a jewel box.
Natural light streaming through the upper level gallery showcases a collection of souvenirs, crystal, and family photos.
The master suite has a magazine worthy fireplace and a gorgeous stone and marble bath.
Not to be missed, the professional grade movie theatre provides an unparalleled entertainment experience. The ping-pong table, kick boxing arena, and spa bathroom on the lower level give the family ample space for playing and laughing together.
Shadow Mountain
– Entertainer's Paradise
High up in Ridgeview Country Estates behind a private gate lies a grand entertainer's paradise with gorgeous ocean and mountain views and a near constant gentle breeze. This 7800 square foot compound was designed to provide both a backdrop to the owner's amazing parties and as a showcase for their collection of chandeliers and mirrors. Blending together traditional modern with Spanish contemporary architecture, this open and airy home is both elegant and welcoming.
This special home features a double height entrance with a polished marble medallion beneath a 6-foot iron and crystal chandelier. The grand living room with a 32-foot beam ceilings has multiple conversation areas and a pass through fireplace that encourage guests to flow into the bar, European club-style library, and patio areas. The full size bar is backed by antique silver mirrors and the owners have been known to hire professional bartenders and entertainers to dazzle their guests.
The kitchen with Bahia blue granite counters faces the stone bridge that crosses the tropical lagoon pool. The nearby pool cabana provides shade and a convenient spot for an impromptu pool party. Up the curving marble staircase with custom iron railings you will find the home's five elegant bedrooms, each with a private bath. The master suite has a private balcony that looks across the type of planted hillside and ocean landscape that has made the Palisades famous. Spend a few moments enjoying the view and the wild and wonderful fruit tree garden complete with every kind of citrus and other tropical fruits before heading back to the shuttle stop. This home is accessible by shuttle only.
Chautauqua - Canyon Landmark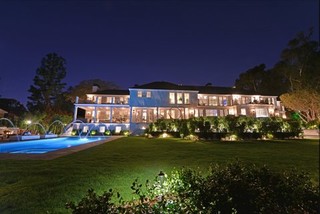 This 1937 gated East Coast Traditional blending Georgian and Colonial elements was one of the first major estates of Pacific Palisades. Recalling the grand estates of architect Paul Williams, it has been thoughtfully restored and expanded in the the ultimate combination of luxury, sophistication and privacy. The exterior of the home is clad in reclaimed brick and smooth plaster. More than 40,000 bricks cover the exterior facade. The home boasts 7 bedrooms and 10 bathrooms joined together by 9" wide oak plank floors and top of the line custom finishes. Shain Development, Inc- Architect and Builder, Staging by Meridith Baer
The ground floor features a chef's kitchen with Snyder Diamond fixtures and cabinet hardware, professional grade appliances, a butler's pantry, office, living room, dining room, family room, wine room and massive views. Approximately 25,000 linear feet of custom moulding is installed in this home. The second floor offers an upstairs family room, 4 guest bedrooms and an expansive master suite w/ sitting area, & dual master baths. Ann Sacks Tile and imported LeFroy Brooks fixtures are featured in the master baths. The lower level provides a media party area with full bar that opens to a 1000 square foot outdoor retreat. The spectacular grounds feature BBQ and bar area, fireplace, pool & spa, & expansive lawn. Please note a family gathering room is included on each level.
All rooms take advantage of the abundant natural light and many rooms overlook the stunning canyon, ocean and city views. The home has a sophisticated control system, with all major controls accessible by iPad or iPhone.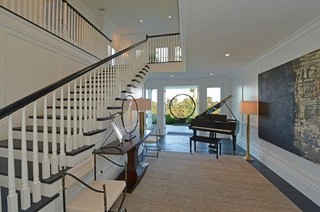 The grounds of the property were designed by a very talented landscape architect (Daniel Busbin) that created many wonderful areas, terraces and patios for entertaining- all constructed of Pennsylvania blue stone. The landscaping consists of an amazing array of California native specimen trees. This includes 30 ft. tall Redwood Sequoia trees, different types of California Oak trees, beautiful Magnolias and other specimens that create and give history to the home and property.